Transforming Your Brows
Posted by Dr. Halaas | on September 14, 2015 »
Transforming Your Brows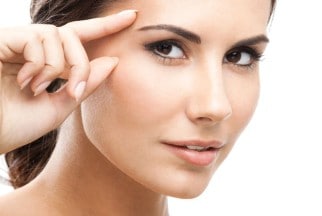 Luxurious eyebrows are gracing the covers of every magazine–and for good reason. Striking well-shaped brows play a role in giving the face greater symmetry; they also highlight and frame the eyes, encouraging them to stand out. When combined with other rejuvenating procedures, thick eyebrows can soften the facial features and add a youthful touch. So how can you transform your brows from understated to daring? From makeup to surgery, here are a few techniques to enhance your brows.
Shape and Darken with Cosmetics and Tweezing
The most simple and traditional way to shape your brows is to use tweezers and cosmetics. The downside? Tweezing can actually cause irreparable damage to the hair follicles, leading to thinner brows over time. Once the hair follicles have been damaged, products such as growth serums will not deliver the promised growth. Brow powders and pencils can embolden the brows and give them an extra edge, but they work best naturally full brows. If you tweeze your brows, be careful not to over do it.
Add Lushness with an Eyebrow Transplant
For those whose brows are either naturally sparse or thinning due to age or over-tweezing, an eyebrow transplant can fill out or restore eyebrows. An eyebrow transplant is a surgical procedure in which healthy hair follicles are taken from your head and transplanted into your eyebrows. The follicles will eventually fall into a normal growth cycle, resulting in the continuous production of hair. Unlike penciled-in brows, an eyebrow transplant is a permanent natural-looking solution.
Brighten with a Brow Lift
As we mature, our skin begins to lose its elasticity and structure. A brow lift is a rejuvenating cosmetic procedure designed to give the upper face a boost. A brow lift can be a non-surgical technique or a surgical procedure.
A non-surgical brow lift involves minimally-invasive injections of relaxants (Botox and other neurotoxins) or dermal fillers (such as hyaluronic acid-based injectables). Temporary in nature, a non-surgical brow lift may be an excellent choice for an individual who wishes to diminish lines, but does not want to undergo surgery. Painless and fast, injectable treatments are convenient and can effectively treat skin that has mild to moderate loss of elasticity.
If the skin is severely lax or they eyelids are drooping, a surgical brow lift can address the more advanced signs of aging. During the procedure, the underlying tissues are tightened and excess skin removed. Like any surgery, a brow lift requires a brief recovery period. Patients can expect swelling and bruising to be evident for about a week, but the reward is a result that can endure for years.
When combined with an eyebrow transplant, a brow lift can dramatically change your overall appearance. Dr. Halaas can masterfully combine different brow procedures to achieve a highly finished effect.
Your Brow Consultation with Dr. Halaas, New York
Blending surgical expertise with an artistic sensibility, Dr. Halaas specializes in brow procedures. If you would like to learn more about how Dr. Halaas can transform your brows, contact her New York office to schedule a consultation.