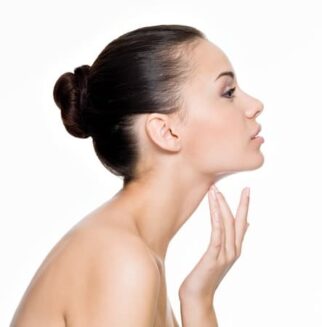 Our face is the center of attraction. It differentiates us from others and gives us our identity which is why many of us spend so much time and effort to make sure they look their best. But some of us are faced with features which may require help from a medical professional. One of these features is having an improper chin. However, with the advancements in plastic surgery, a lacking chin can safely be altered with surgical or non-surgical chin augmentation methods.
First, we will take a look at surgical chin augmentation and what it entails:
Procedure: During the surgery, Dr. Halaas made an incision below the chin or inside the mouth where the implant will be inserted. In cases where surgery is required to reduce the projection of the chin, Dr. Halaas will safely and carefully shape the chin bones to produce desired results.
Results: Chin implants are permanent and will last forever which can save you a lot of hassle and money in the long term. However, there are some chances of post-surgery complications such as the implant moving from its position and development of infections. Therefore, it is crucial to have an experienced board certified surgeon such as Dr. Halaas to perform the surgery.
Recovery: In the first two to three weeks after the surgery, you will be required to leave off any strenuous activity while you recover. Chin and jaw movements may also be limited for a few days immediately after the surgery. After about six to eight weeks, majority of the swelling will wear off and you will see the final results.
Let's move on and examine non-surgical chin augmentation:
Procedure: This non-surgical procedure uses dermal fillers such as Radiesse and is relatively quick. Dr. Halaas will apply topical anesthesia and inject the dermal filler after the area is numb. Simultaneously, she will massage the area to sculpt a natural look.
Results: After the insertion, results can be seen immediately. But, like with other dermal filler procedures, these results are not permanent. They will last for about one year and you will need further treatments to maintain the shape of your chin.
Recovery: Recovery time is a lot shorter compared to surgical procedures. In most cases, patients can resume normal activities in just two to three days. There are slight chances of developing small bruises, but these should disappear within a week or two.
With more information on chin augmentation, you are now better equipped to make a decision. It is highly recommended that you consult your surgeon before deciding which method is right for you. Dr. Yael Halaas is an expert in facial plastic surgery and will be happy to offer you a consultation. Feel free to contact her office to discuss your specific needs.