Neck Rejuvenation
Posted by Dr. Halaas | on January 25, 2016 »
Neck Rejuvenation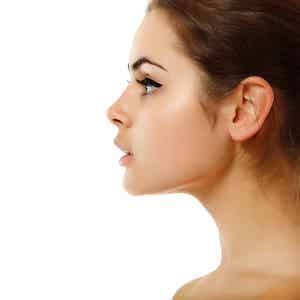 Have you noticed that your neck is not as tight as it once was? Unfortunately, an aging neck–characterized by horizontal banding and formless dangling skin, or the "turkey wattle"–is difficult to hide. For many, the neck is an afterthought, an area less rigorously tracked than the face; but when the skin becomes loose, it can betray your age and add years to your appearance. Today, there are many options to rejuvenate the neck. A New York board-certified facial plastic surgeon, Dr. Yael Halaas offers both non-invasive and surgical neck rejuvenation procedures.
Nefertiti Lift. A non-invasive procedure, the Nefertiti lift is a neck contouring technique that uses Botox and dermal fillers (such as Radiesse, Juvederm, Voluma and Restylane) to improve the appearance of the neckline. Because no incisions are made, no recovery time is needed. Although results can last several months, periodic touch ups are required.
Thermi Lift / ThermiTight. A rejuvenating technique that utilizes radiofrequency technology, ThermiTight is another non-invasive procedure that can reverse the signs of aging in the neck. During the procedure, Dr. Halaas places a small heat-emitting device beneath the skin. The heat targets fat cells and induces the skin to tighten. The procedure is painless, affordable and yields instant results and–like the Nefertiti Lift–does not require downtime. You may experience some minor swelling for the first 24 hours.
Neck Lift. A neck lift, or lower rhytidectomy, is a surgical procedure that can restore and enhance the contours of the neck, giving it a more refined and youthful look. During the procedure small incisions are made so that the loss of muscle tone in the neck area can be addressed. If necessary, Dr. Halaas will also perform liposuction to remove fat. Finally, excess skin is trimmed to create a taut finish. The initial recovery time is about a week, but patients can enjoy the outcome for many years to come.
When to Consider Surgery
Non-invasive and minimally-invasive procedures can be highly effective; however, in certain cases, surgery may be the better option. Non-invasive procedures are best suited for those who have early signs of aging. You may want to consider surgery if you:
Have signs of advanced aging (severe skin laxity)
Want the longest-lasting result
Your Neck Rejuvenation Consultation with Dr. Halaas, New York
A firm, defined neck contributes to an overall youthful and elegant look. If you are dissatisfied with the the contour of your neck, Dr. Halaas can determine the most effective and appropriate procedure to improve the appearance of your jawline and neck. Blending surgical skill with a discerning eye for detail, Dr. Halaas can help you realize a more graceful neckline. Contact Dr. Halaas at her Manhattan office to schedule your consultation.