New York Facelift Surgery
As the signs of age begin to change the face, resulting in sagging skin, jowls, wrinkles, and other lines and creases, many people want to turn back the clock and see their youthful face in the mirror again. Dr. Halaas is highly experienced in facelifts, combining her artistic background with the latest surgical techniques.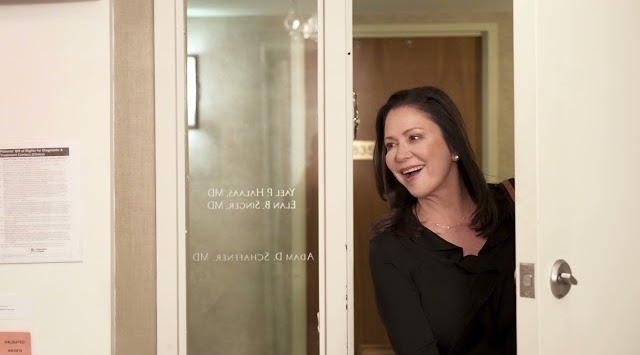 Why choose Dr. Halaas?
After two decades of surgical experience, Dr. Halaas has conducted over 1200 "Local Lifts" (facelifts under local anesthesia), with the highest satisfaction and lowest complication rate on the East Coast. Dr. Yael Halaas is highly experienced in facelifts of all types, combining her artistic background with the latest surgical techniques.
As a double board-certified plastic surgeon in Otolaryngology and Facial Plastic and Reconstructive Surgery, she is the number one female facial plastic surgeon on the East Coast. Her authority and expertise in the field of facial plastic surgery are the reasons she is a trusted opinion leader and surgeon when it comes to facelifts and other surgical procedures.
Dr. Halaas balances cutting-edge science with a compassionate bedside manner that her patients love and appreciate. Patients trust her because they immediately feel her honesty and empathy as they experience her professional skill and expertise. If you're interested in a facelift, we invite you to contact us for a consultation with Dr. Halaas.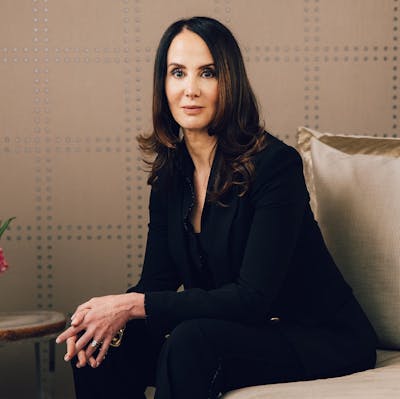 What can a facelift accomplish?
A facelift in NYC with Dr. Halaas contours and defines the facial features, lifting the tissues into a more youthful appearance. A facelift can achieve the following improvements:
Overall facial rejuventation
Tighter skin
Lifted, contoured, and defined features
Smoothed wrinkles and creases
Eliminated jowls and double chin
Sculpted jawline
Many signs of age disappear in only one procedure.
As many as ten years are taken off the face
Dr. Halaas is so sweet and genuine. I trust her with my life, and I know she will always do outstanding work. I love walking into her office — the ladies there are so warming. Her office is all-around a great experience.
I have been going to Dr. Halaas since I was 27 years old. I will be 45 in two weeks, and I haven't had anyone else do my Botox or fillers. She has kept me looking extremely youthful between her laser and beauty treatments along with skincare.
I have been visiting Dr Halaas for a few years, and I am always pleased with my services and have had nothing but positive experiences visiting this office. I have had Botox, laser treatments, and also eyebrow transplants done by Dr. Halaas.
Amazing experience. As soon as you walk into the office, you are greeted by a super friendly staff. I felt so comfortable asking questions about the procedure I needed. Did not feel rushed as I have with other doctors.
I have been a patient of Dr. Halaas for over 10 years and have always walked out of her office looking, and feeling better than when I walked in. Dr. Halaas has a genuine warmth and caring that makes visiting for any procedure a pleasure.
Types of facelifts
Dr. Halaas performs different types of facelifts in NYC to achieve your aesthetic needs and goals.
Mini facelift
This less invasive facelift is performed under local anesthesia and targets more precise areas, requiring smaller incisions. Small "S" shaped incisions are made near the hairline by the ears. Using these incisions, the mid and lower areas of the face (the cheeks and jawline) are lifted and sculpted. There is less surgical trauma with a mini facelift, resulting in a shorter recovery period. Because it has a shorter procedure time and faster recovery, the mini facelift is often called by the nickname, "the weekend lift."
Deep plane facelift
A deep plane facelift is performed with general anesthesia and addresses the underlying structure of the skin–muscle and connective tissue called the SMAS (Superficial Musculoaponeurotic System). This network of tissue lies over the facial muscles, forming the framework and structure of the face. Dr. Halaas will make incisions around the ear, then use these to tighten and lift the SMAS, working in a wider range of tissue than other facelifts to achieve more dramatic improvements. The four ligaments that anchor the facial muscles downward are released to beautifully lift the facial features.
SMAS
The SMAS facelift is similar to a deep plane facelift. It addresses and tightens the SMAS (Superficial Musculoaponeurotic System). This network of muscle and connective tissue lies beneath the skin and above the facial muscles. Incisions will be made around the ear and used to lift, tighten and address the SMAS, focusing on the muscles in the jaw area that have loosened and caused sagging. Excess skin and fat are removed to achieve a more youthful appearance.
Local Lift
Dr. Halaas created the Local Lift®, a facelift procedure less traumatic than a full facelift that achieves excellent results. The Local Lift has fewer risks and is customized for each patient. This procedure can lift sagging cheeks, reduce lines and wrinkles, and tighten the neck muscles.
Recovery and aftercare
Dr. Halaas puts an emphasis on safety while in surgery, and provides detailed post-op instructions in order to quicken the recovery time for her patients.
After your procedure is complete, Dr. Halaas will provide you with a light face wrap that needs to be worn for a week. You will be able to return home with a friend or family member. Dr. Halaas will give you a homeopathic prescription to reduce swelling and bruising, which will last several days to a week. She will see you the next day to check on your healing.
The wrap can be taken off, and most patients can return to light work within 1-2 weeks. All stitches will be removed within 10-14 days. Wait for 4-6 weeks before you return to vigorous activity.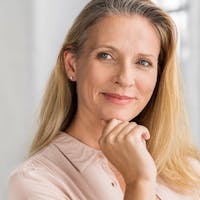 Who is a candidate for a facelift?
Candidates for a facelift are usually men or women who would like to achieve a dramatically more youthful appearance. The typical age for a facelift ranges between 40 and 60 years, although individuals who are younger or older may also be good candidates. Candidates for a facelift in Westchester should meet the following requirements:
Are generally in good health
Have no serious medical conditions
Do not smoke
Are not taking blood thinners or can safely stop taking blood thinners before surgery
Have sagging skin, prominent jowls, loss of facial volume, and sunken areas
Are realistic about what this procedure can achieve
Facelift scars
Incisions for a facelift are hidden in the hairline and behind/inside the ear. Most patients' incisions take about six months to heal after a facelift procedure. Visible scars progress from a pinkish line to a white color that is hard to notice. It may take as long as 1-2 years for the scars to fade fully.
Cost of a facelift
Because every facelift is customized for each patient by Dr. Halass, the exact cost for your facelift in NYC can only be determined after a consultation, once the complexity of the procedure is evaluated. Dr. Halaas will examine your skin, understand your needs and aesthetic goals, and design a personalized surgical plan for you. This surgical plan will also include the exact cost of your facelift.
Complementary procedures
To complement your facelift procedure, other surgeries may be performed at the same time. Facial procedures may include eyelid surgery, brow lift, or neck lift. Other non-surgical procedures may also be performed to enhance results, such as dermal fillers or laser treatments.